Fabio Mirulla Workshop 2023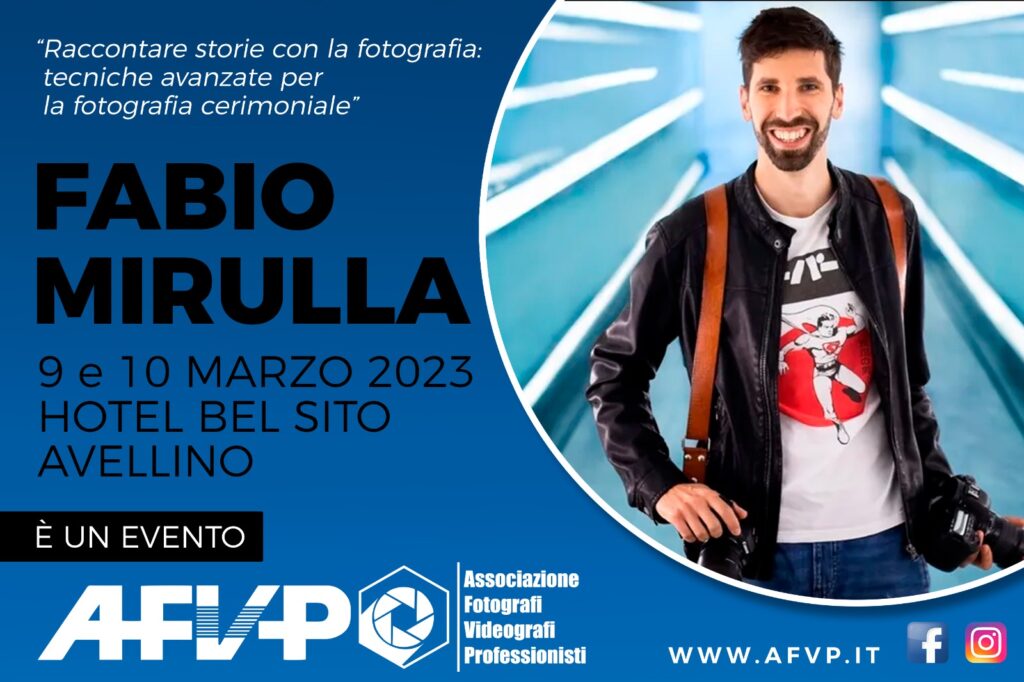 Avellino, Italia – L'Associazione Fotografi e Videografi Professionisti (AFVP) ha il piacere di annunciare che il 9 e 10 marzo 2023 si terrà un workshop presso l'Hotel Bel Sito ad Avellino, tenuto dal giovane e talentuoso fotografo matrimonialista Fabio Mirulla.
Il workshop, dal titolo "Raccontare storie con la fotografia: tecniche avanzate per la fotografia cerimoniale", si concentrerà sull'utilizzo delle tecniche avanzate di fotografia per raccontare le storie dei matrimoni in modo emozionante e coinvolgente. Verranno trattati argomenti come la composizione, l'illuminazione, la post-produzione e la ripresa in condizioni di scarsa illuminazione.
Inoltre, Fabio condividerà la sua esperienza e le sue tecniche per creare immagini uniche e memorabili che catturino l'essenza dei matrimoni. Durante il workshop, gli studenti avranno l'opportunità di lavorare con modelli e di utilizzare attrezzatura professionale per mettere in pratica ciò che hanno imparato.
Questo workshop è perfetto per fotografi matrimonialisti e professionisti che vogliono migliorare le loro abilità e imparare nuove tecniche per raccontare le storie dei loro clienti in modo emozionante e coinvolgente. I posti sono limitati, quindi non esitate a prenotare il vostro posto oggi!
Programma del workshop:
Realizzare una bella foto è facile?
About Me: da dove vengo, chi sono, chi voglio diventare
Siamo artisti?
Come affronto il giorno del matrimonio e il nostro compito
Perché una coppia ti sceglie?
L'attrezzatura e la sua reale importanza
Sperimentare e fare ricerca
La comfort zone
Le storie dietro una fotografia
Dove stai andando? Dove cerchiamo l'ispirazione?
Stili e approcci a confronto
Destination wedding
Le associazioni e i contest
Postproduzione e flusso di lavoro
Crescere insieme agli altri
Domande libere e curiosità
Fabio Mirulla è un fotografo pluripremiato con esperienza decennale nella fotografia matrimonialista:.
– Fearless photographers: Photographer of the Year 2021
– International wedding photographer of the year (IWPOTY) Grand winner 2021
– ISPWP 2019 Photographer of the Year
– This is Reportage: Photographer of the Year 2019
– Fearless photographers
2017 – top 10 per il fotografo dell'anno
2018 – 2° posto per il fotografo dell'anno
– Junebug weddings
2016 premiato nel "The best of the best wedding photo"
2019 premiato nel "Best of the best destination photo"
– ANFM Fotografo dell'anno 2017
Per ulteriori informazioni e per iscriversi al workshop, visitare il sito web dell'AFVP.